Waste Managers Win Best Employer Award
11 June 2014 by CSG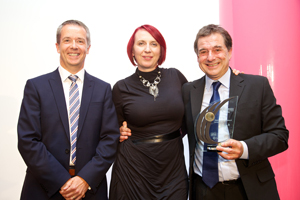 CSG Lanstar, part of waste management specialists Cleansing Service Group, was presented with the Best Employer Award at this year's Salford Business Awards ceremony.
Lanstar beat off the competition in a very strongly contested sector after impressing the judges with its record of low staff turnover, "enlightened attitudes" and degree of commitment to staff welfare.
CSG Lanstar operates the UK's largest hazardous waste treatment and recovery complex at Cadishead, Manchester, and has a customer base of industrial and commercial customers – most of them high profile organisations – who insist on high standards of excellence from their suppliers.
"To maintain the high standards demanded by our customers makes it vitally important our staff are well trained and motivated to provide the best possible service," said Cadishead site manager Jen Cartmell.
The awards, now in their seventh year, are organised by the University of Salford, The Business Group Salford and Salford City Council. JMC IT sponsored the Best Employer Award.