The Total Answer to Waste Management Burden
14 March 2016 by Peter Chiodo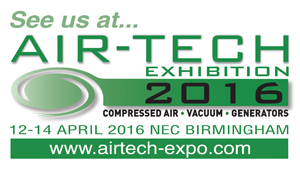 Another rise in the Landfill Tax means that from April 1 it will cost £84.40 to dispose of one tonne of waste in one of the UK's burdened landfill sites.
Annual tax hikes, and other Government efforts to boost industrial recycling and materials reuse – including a raft of new regulations – have been designed to persuade companies to tighten up the way they manage their waste.
Waste creation remains one of industry's top environmental impacts, and the pressure is on to handle industrial by-products more sustainably than in the past.
This, in turn, is presenting specialist waste management companies with new waste treatment challenges, inspiring them to develop innovative technologies designed to boost their customers' recycling and resource recovery rates rather than concentrating on mere disposal.
That's the message award-winning national independent waste managers Cleansing Service Group (CSG) will be promoting when the company makes an appearance at this year's Air-Tech Exhibition at Birmingham's NEC on April 12-14 (Stand No.AF 366).
CSG seeks to act as a 'green partner' to its customers by providing them with a customised programme of waste management measures designed to minimize adverse environmental impact in the heavily regulated eco-aware 21st century.
These are called Total Waste Management (TWM) programmes, and CSG technical experts will be on hand at the event to explain how companies can preserve valuable raw materials by recovering and recycling as much as possible in order to divert waste from increasingly expensive landfill, save operational costs, boost sustainability and ensure compliance with stringent waste management regulations.
They'll also be showcasing the technical facilities operated by CSG to transport, treat, recover or recycle a huge range of industrial by-products at a time when all companies now have to apply the Government's formal 'waste management hierarchy' when disposing of their waste.