Pioneering Waste Managers Make PPMA Debut
26 August 2015 by CSG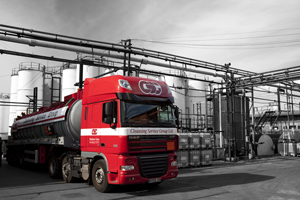 Government efforts to boost industrial recycling and reuse have resulted in a raft of new regulations designed to persuade companies to tighten up the way they manage their waste.
Waste creation, and its ultimate disposal, remains one of industry's top environmental impacts and is subject to increasingly tough legislative demands. This, in turn, is presenting specialist waste management companies with new challenges, especially in the field of recycling and resource recovery, inspiring them to commit to the goal of sustainability rather than mere disposal by anticipating future trends (and legislation) and developing innovative technologies in favour of the environment.
That's the message fast-growing national independent waste managers Cleansing Service Group (CSG) will be promoting when the company makes its first appearance at a Processing & Packaging Machinery Association exhibition at Birmingham's NEC (STAND J54) from 29th September – 1st October.
The group, which has its head office in Fareham, now operates from 25 sites stretching from Cornwall to Kent and up to Manchester and Middlesbrough in the north. It provides industrial customers with a number of advanced facilities including the UK's largest hazardous waste treatment and recovery site at Cadishead where award-winning new processes have been pioneered.
A successful investment and expansion programme has resulted in a dramatic increase in the number of sectors in which CSG operates, which now range from metals recovery to chemical waste; oil recovery to the treatment of toxic contaminated construction industry wastes; spills clearances to Total Waste Management (TWM) programmes, and printing industry by-product recycling to industrial tank cleaning.
CSG seeks to act as a 'green partner' to its customers by providing them with the means of managing their waste with the minimum of adverse environmental impact in the heavily regulated eco-aware 21st century.
This is particularly true in the case of TWM programmes, and CSG technical experts will be on hand at the event to explain how companies can preserve valuable raw materials by recovering and recycling as much as possible in order to divert waste from increasingly expensive landfill, save operational costs and boost sustainability.
They'll also be showcasing the technical facilities operated by CSG to transport, treat, recover or recycle a huge range of industrial by-products at a time when all companies now have to apply the Government's formal 'waste management hierarchy' when disposing of their waste.