Oil Monster Rolls Out New Tankers
08 April 2015 by Daryl Tunningley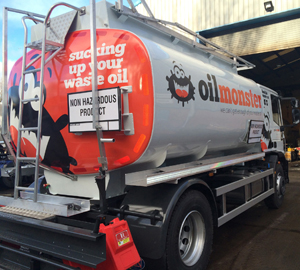 Waste lubricating oil collection specialist Oil Monster (OM) has rolled out two new tankers after recording a 100 per cent increase in volumes of oil collected and reprocessed last year.
The Chester-based company, launched in 2012 to help small volume waste oil producers gain value from the by-product, was acquired by independent waste management company Cleansing Service Group (CSG) in 2013 as part of the group's aim to become a major player in the waste oil treatment and recovery market.
It collected around 1million litres of oil in its first year, and doubled that figure during 2014. Now OM is planning to double that volume again this year.
At the time of the acquisition, CSG promised to make significant investment in new OM tanker vehicles to match increased customer demand for the service.
Two new tankers, painted in eye-catching livery, have now come on stream and OM vehicles are in operation from bases at Middlesbrough, Barnsley, Saltash in Cornwall, and at Cadishead near Manchester.
The new tankers have been designed and built using IVECO EuroCargo ML180E25 4×2 chassis cabs and three-compartment, 12,000 litre lightweight aluminium Lakeland tanks constructed to fully comply with ADR/CEN regulations EN13094. With a waste oil density of approximately 900 grams per litre, the lightweight design means that carrying capacity is maximised at the 18 tonne GVW.
The IVECO EuroCargo Euro 6 emissions compliant engine is based on a design that is very different to many other Euro 6 engines. IVECO employ Selective Catalytic Reduction (SCR) to reduce emissions and in turn deliver better fuel consumption to reduce running costs.
SCR emissions control also has the added benefit of improving engine reliability and extends servicing intervals to reduce the cost of ownership. SCR removes the need for large capacity coolant systems and very high exhaust temperatures that may cause problems when operating in hazardous areas.
The tankers are fitted with a power take off speed controlled Mono Merlin CAF12H1-R1 pump with a Gardner Denver reverse flow valve and inline filters. A mono self-priming pump is ideal for pumping contaminated waste oils from underground and above ground tanks and vessels. The reverse flow arrangement means that unlike many fuel delivery tankers, the waste oil tanker is entirely standalone and capable of loading and unloading the waste oil cargoes without a land based pump.
The waste oil is refined into base oil ready to enter back into the lubricant market as an environmentally-friendly alternative to recycled fuel oils which are burned and used once.
Oil Monster customers include independent garages, plant hire companies, commercial vehicle repair firms, scrap yards, and rail and aviation servicing facilities.
Picture shows a new Oil Monster tanker in its eye-catching livery