North East Expansion for Cleansing Service Group
28 January 2011 by CSG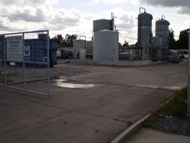 Award winning waste management specialist Cleansing Service Group (CSG), which has its national headquarters at Fareham in Hampshire, is set to expand its treatment and recovery services with the establishment of CSG Wilton Ltd based in Teesside.
CSG has purchased the assets of Wilton Waste Treatment Ltd to continue to operate from their seven acre facility on the Wilton International site at Teesside. Formed two years ago, Wilton Waste Treatment operates an advanced aerated bio-treatment plant capable of handling any type of organic effluent, including hazardous.
The latest acquisition strengthens CSG's position as one of the UK's leading waste treatment and recovery specialists. Its advanced, award-winning facility at Cadishead, Manchester, is one of the country's biggest specialist waste handling sites.
The development of CSG Wilton Ltd is a further step in a successful expansion programme in which CSG, one of the UK waste industry's fastest growing companies, has acquired a number of specialist companies across a wide range of waste treatment sectors.
Announcing the latest acquisition Neil Richards, CSG Director of Treatment & Recovery, said: "This purchase expands the range of specialist treatments we offer and the location will also enable us to continue to develop our customer base in the north east. The company will trade as CSG Wilton and all the current staff are being retained.
"In these difficult times we're particularly pleased to be able to provide a comparatively new company with the advantages that a large and successful organisation can give."
Wilton International is one of the few sites in Western Europe with special development status. Created over 50 years ago, it has seen continuous growth, improvement and regeneration, and many of the world's leading chemical and manufacturing companies are well established at Wilton.
For further information, quotes or for any other waste management requirement please call Mike Wilson 0161 775 2644 or email mike.wilson@csgwasteman.co.uk