Four decades of change for chemist
25 September 2020 by CSG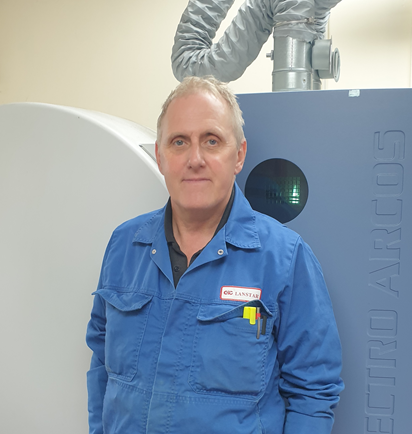 Four decades of change and challenge has kept a Warrington chemist from ever being bored with his job.
Leading waste management company CSG has congratulated Vinny Craddock on reaching 40 years' service at its Cadishead facility.
The 58-year-old originally started as a quality control chemist when the site was Lancashire Tar Distillers. Over the course of his career he has gained experience handling a wide range of waste materials and now acts as the company's Reception Chemist on its aqueous treatment plant.
Vinny said: "My current role involves receiving, testing, routing and batching different packaged waste that comes onto site to enable it to be safely processed. These can include acids, alkalis, cyanides, oxidisers, chrome wastes and many other liquid and solid materials.
"Over the years the business environment has changed and waste treatment has become increasingly important.
"As my work life has constantly changed, I have never become bored and I have thoroughly enjoyed the challenges that work presented."
CSG was founded as a one-man sewage collection business in rural Hampshire more than 85 years ago and now employs a national workforce of nearly 500 people.
The company, which has 26 other sites across the UK, is one of the largest privately-owned industrial and domestic environmental waste management groups in Britain. The business works on the goal of diverting waste from landfill, recovering and recycling as much material as possible.
Neil Richards, managing director of CSG added: "We have a saying at CSG – it's all about the people. And Vinny is one of those people who have put their life and soul into the business.
"Not only is he a brilliant professional chemist, he is also a tremendous colleague. I'm not surprised he says he's never been bored with this work as he always brings a positive attitude and an enthusiasm for every new challenge.
"We are very proud to have people like Vinny here at CSG."