Fire Safety Comes First at CSG Flagship Site
06 October 2017 by Daryl Tunningley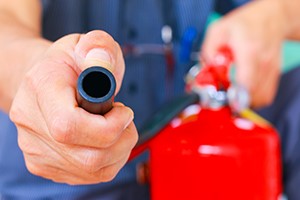 The tragic Grenfell Tower disaster has focused attention as never before on the critical, life-saving importance of fire safety procedures, whether in domestic or work premises.
Industrial sites are rightly expected to maintain the highest levels of fire safety, and yet fire and rescue teams attend tens of thousands of fires in non-domestic buildings every year, some of them fatal.
It's up to the operators of these sites to ensure they have adequate controls in place to prevent fires and, if one does occur, to ensure the risks to human health, property and the environment are minimised.
CSG is constantly reviewing and testing the fire safety measures in place at all its sites, including the company's flagship waste treatment centre at Cadishead near Manchester where a £12,000 state-of-the art fire alarm system has recently been installed across the 30-acre site.
After thorough research of the market, CSG opted for a wireless system specifically developed for use on construction sites.
The British-built WES+ system – manufactured and supplied by Ramtech Electronics – complies with all key safety standards and was tested in challenging on-site conditions, including harsh weather, during its development.
The 32-component system comprises base units, call points and heat alarms protecting the entire Cadishead site.
It also includes a recently-developed emergency response facility which in the event of an incident can send a text message alert to a nominated response team including first-aiders, chemists, engineers and other technical specialists.
Said site manager Jen Cartmell: "We believe we are the first waste management company to specify and install a system incorporating all these safeguards and we're happy that it will meet every one of the current fire safety standards."