CSG Takes on MRH Forecourt Maintenance Programme
27 May 2011 by CSG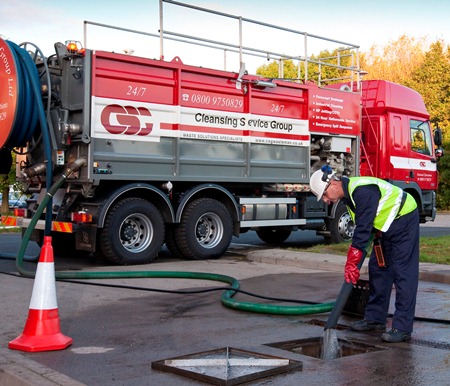 MRH Retail, the UK's leading independent fuel forecourt operator, has awarded waste management specialist Cleansing Service Group (CSG) a contract to carry out a nationwide environmental services and maintenance programme at all of its sites.
The Epping-based forecourt retail chain, which owns and operates over 300 service stations and accounts for around four per cent of motor fuel sales in the UK, has granted CSG a three-year contract to provide a 'one stop shop' portfolio of drainage maintenance services.
They include forecourt interceptor emptying and cleaning to ensure drainage systems operate at peak capacity and are not contaminated with oil, petrol and silt, as well as routine cleaning of surface and underground drainage channels, gullies and silt traps, and sewage system maintenance.
CSG also provides a fast response 24-hour emergency call-out service.
CSG's Fareham-based Transport, Cleansing & Response Division includes a specialist forecourt services maintenance operation designed to ensure that refuelling and vehicle cleaning facilities comply with current pollution prevention regulations.
Its fleet includes specialist waste tankers specified to meet national Petroleum Regulations, and the company operates Environment Agency-approved hazardous waste treatment facilities which process hundreds of thousands of tonnes of oily waste a year, much of it collected from forecourt drainage systems.
The facilities separate the oil and water, with the oil recovered for re-use as a low grade fuel and the water treated to allow eventual discharge into a sewer.
MRH Retail's managing director, John Lynn, said CSG had been chosen as the company's maintenance partner because of its reputation in the sector and the national coverage it could provide over the entire range of drainage maintenance services required by MRH Retail.
"It's a priority for us that our forecourts and all their services, including vital infrastructure such as drainage systems, interceptors and sewage systems, function efficiently and remain trouble-free," he said.