CSG Support for Teesside VC Hero Memorial
16 January 2017 by Peter Chiodo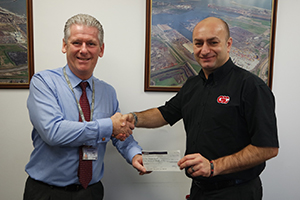 A £5 million investment in waste treatment facilities across Teesside has seen the region become a major geographical location in CSG's national operations.
So it's fitting that the company has given its support to a scheme to honour one of the region's most distinguished sons – the First War hero Tom Dresser who was the first Middlesbrough recipient of the Victoria Cross, the UK's highest and most prestigious award for gallantry.
Dresser was only 24 when he won the VC in 1917 while fighting with his regiment in France. He fearlessly carried an important message to the front line trenches despite having been twice wounded on the way, determined to deliver it at all costs.
Now, in the centenary year of his heroism, the Tom Dresser VC Fund has been set up to erect a statue as a permanent reminder of his bravery. CSG will be supporting the fund with a £1,000 contribution towards the £50,000 target and the statue will be created by the sculptor Brian Alabaster.
Said CSG operations manager Jen Cartmell: "With facilities at Wilton and Middlesbrough and further expansion to come, CSG has become an established part of the region's commercial community, so we're delighted to lend our support to the fund which will mark the achievements of a very brave Teesside man."