CSG Spills Team Offer Emergency On-Site Training
07 May 2012 by CSG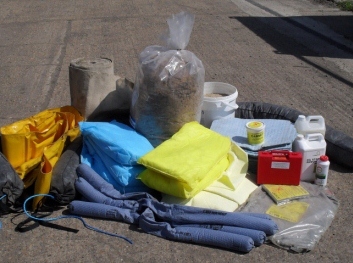 Waste management company Cleansing Service Group (CSG) is offering its customers on-site staff training in the immediate steps that need to be taken to contain a spill of liquids, powders or solids, especially those that are toxic and have the potential to harm health or the environment.
CSG say they will tailor their training to suit the needs of a wide range of sectors, from food manufacture to petrol forecourts.
Hugh Neatherway, Divisional Manager (spills) for Hampshire-based CSG, said the fast reaction of on-site staff was vital, particularly in operations such as food manufacturing where a spill could possibly contaminate products intended for human consumption.
"It is very important that a company has the correct equipment in its spill kits and that staff know what method of containment and which equipment or products to use depending on the substance that has been spilt. The correct response can also help stop a minor incident escalating, or help reduce the effect of a major spill pending the arrival of a professional spills clean-up team.
"Accidental spills cannot be totally eliminated but training on-site staff to react correctly can, we believe, help keep potential damage to the minimum."
CSG, which has its own specialist Emergency Response Spills Service and is a founder member of the UK Spills Association, is currently are offering its spills training service just to customers but intend to extend it to non-customers later this year.