CSG Launch Chemical Safe Handling Course
22 May 2017 by Daryl Tunningley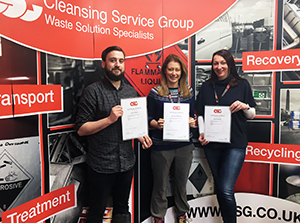 Waste managers CSG have launched a customer training scheme on the storage and segregation of chemical waste in the workplace.
The Fareham-based company is offering courses designed to increase awareness of the correct procedures for storing and segregating chemical substances, and the legislation governing their use.
The courses, held at customer sites, are being run by the company's dedicated Chemical Specialist Team based at CSG's Rochdale facility whose clients include schools, universities, research centres, government departments and chemical manufacturers.
This team specialises in the collection and transport of packaged hazardous chemical waste which often requires special handling.
CSG has held its first training course at the University of Leeds when 18 staff, including health and safety representatives, store managers and laboratory technicians, took part in one 3 hour session together with group discussions.
CSG have issued certificates to every participant confirming that they have attended the course.
Dr Assed Zaman, who heads up the Rochdale unit, said: "Chemicals in the workplace are a fact of life. Used properly, they can be perfectly safe and they can make many jobs easier and more productive. But they cannot be used casually. Managing them in a safe and sustainable way is essential and requires some basic health and safety procedures.
"Our courses are designed to promote the safe use of chemicals in establishments such as companies, health and safety departments, waste storage facilities and universities and we believe they can be a valuable addition to any in-house training already given by customers."