CSG Deploys Sonar Technology to Map Waste Water Sludge Levels
27 February 2017 by Daryl Tunningley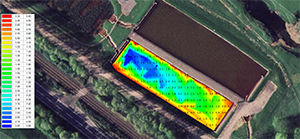 The use of sonar technology could "transform" the way in which sludge build-up in settlement ponds and lagoons is monitored and maintained, say waste management specialists CSG.
Lagoons are an established method for treating waste waters created by site processes such as those performed at oil refineries, petrochemical works, AD plants, sewage treatment works, reservoirs and many other industries.
Some are created to be used for the clarification of water while others act as settling ponds where solids are separated. Treated water from the ponds is often re-used in on-site processes.
Their main drawback is the accumulation over time of sludge as solids sink to the pond bottom and gradually reduces its original storage capacity, leading to an inefficient solids-liquids separation process and reduced retention time.
As the sludge blanket rises, lagoons need to be desludged – a costly process which is often put off as long as possible.
Judging the depth of sludge and its underwater contours has typically been a fairly primitive and inaccurate manual operation – sometimes involving a long 'dipstick'.
But Fareham-based CSG has now started deploying its own sonar sludge mapping system to produce remarkably accurate surveys for customers seeking maintenance information or planning a sludge removal operation.
The sonar probe, co-ordinated with GPS, is mounted on a raft and systematically drawn across the whole of the pond's surface, feeding back information every second to a remote computer which produces a colour contour map of the sludge surface.
The system has been adapted from patented technology originally devised by the CSG subsidiary Willacy Oil Services based at Sandycroft on Deeside, and designed to profile sludge build-up in crude oil storage tanks.
"We're able to give our customers a detailed printed profile of exactly how much, and where, the sludge has formed and the remaining water volume," said Willacy general manager Gavin Lucas."
This helps them to draw up a maintenance schedule based on verifiable and visual information. They can actually see a map of the pond's surface contours which enables them to predict at what stage it will need to be de-sludged.
"We think using sonar technology can transform waste water sludge profiling because most traditional methods of sludge measurement can be inaccurate and time-consuming, but we're not at the moment aware of it being used anywhere else in the UK."
CSG say that adapting the technology for use in lagoons has proved so successful that the company's project design team is currently working on plans for a remote-controlled vehicle to carry the probe across the water.
Lagoons undergoing desludging are usually taken off line. The cleaning is then done either by a manually operated bucket excavator, a team of workers entering the confined space to assist removal, or the sludge is washed to a vacuum tanker suction. This only adds to the volume of material that needs to be further treated or disposed of.
CSG has developed a desludging hierarchy which does not require the lagoon to be taken off line, can remove sludge via a remote operated dredge, and can treat the sludge on site ready for immediate removal.
Picture shows CSG sonar technology at work on a waste water settlement pond.