The £5 Tanker That Launched a Multi-Million Pound Business
23 May 2014 by CSG
It might look like a quaint period piece now, but this ancient Dennis tanker was the vehicle that launched a multi-million pound waste management business still going strong today and celebrating its 80th birthday this year.
The 30 cwt., solid-tyred, petrol driven 800 gallon tanker was bought second-hand from Wokingham Rural District Council by a young entrepreneurial Hampshire man called Edgar Hart, who was always known as Bunny.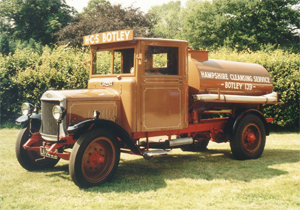 He paid £5 for it in 1933 and planned to start a business collecting what was euphemistically called 'wet waste' – in effect, the contents of septic tanks and household buckets.  Asked by a grand lady why he was involved in such a business, he replied: "It might be muck to you, madam, but it's bread and butter to me."
But before the business could get going, Bunny had to spend a bit more money to get the vehicle fit for purpose. A new hose cost him £47. 7s, but converting the solid tyres to pneumatic was the most costly item at £104 18s. 6d. Vehicle insurance set him back £9 13s 9d.
A further £4 2s 6d was paid to have the words Hampshire Cleansing Service painted on the side, and Bunny, based in the village of Botley near Southampton, was ready for trading on January 1, 1934 when he began work emptying and taking away the contents of cesspits for local councils and private householders.
Eighty years on, the company – now called Cleansing Service Group (CSG) – is an award winning, multi-million pound business and has become the second largest privately owned industrial and domestic environmental waste management group in Britain.