Apprenticeships: Back to the Future
08 February 2021 by CSG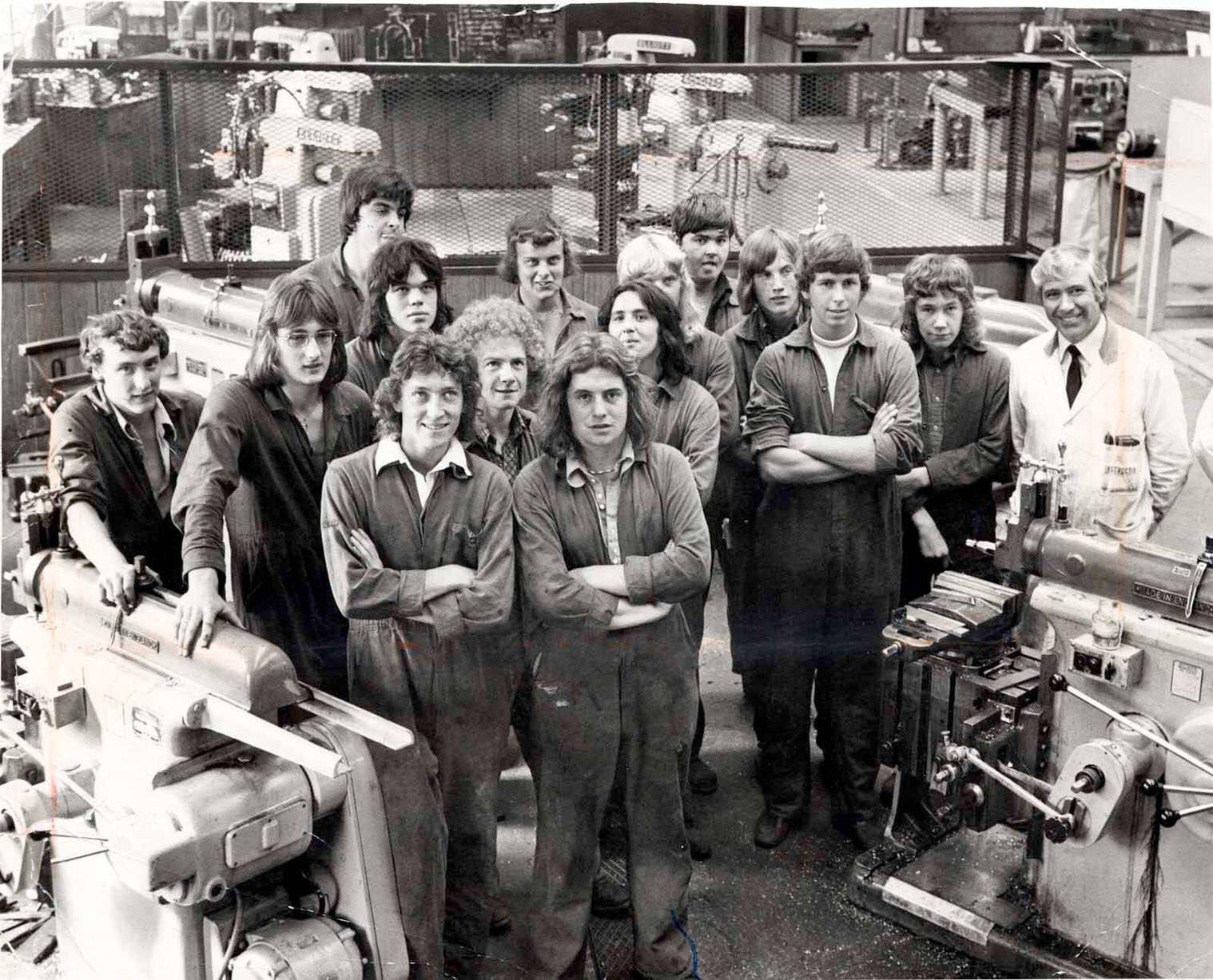 If you were asked to name five things you know about CSG, you'd probably list our reputation for excellence in waste treatment, our Hampshire base, our long history, our nationwide reach and our family heritage. You'd be right on all five counts, of course, but could you keep adding to that list – and how far down the list would you get before you mentioned CSG's strong advocacy of apprenticeships?
To many people, the word 'apprentice' can summon images of a bygone age and long-forgotten trades. The implementation may have changed over the years, but the basic premise never really went away and there's much to suggest that it should form a vital part of the knowledge economy we're shaping. At CSG, a commitment to apprenticeships is more than just a way of developing skilled workers that offers benefits for all concerned. It's deeply embedded in the most dearly held values of the company. Take a look through these pages and you'll see how CSG have been strong supporters of apprenticeship schemes for years, offering industry skills and opportunity for young workers.
As you may imagine, there are many good reasons for advocating apprenticeships but chief amongst them is that the principle is embraced at the highest level – and for Managing Director, Neil Richards, the attachment is personal. Asking him to recount his own experiences as an apprentice, you soon realise that this is a subject that continues to inspire him.
"In Spring 1972, I was a sixteen-year-old lad, only bothered about kicking a ball around with my mates and wondering where to go on a Saturday night. My time at school was coming to an end and I'd had enough of being taught subjects that didn't interest me. I knew I needed to get into the world of work, and I was fortunate to live in a town where I could be taken on as an apprentice by the local employer."
The town was Connah's Quay, a former port on the mouth of the River Dee in Flintshire, North Wales and the local employer was Shotton Steelworks. At the time, it was part of the nationalised British Steel and employed over 11,000 workers, a huge proportion of the local workforce. In order to be taken on as an apprentice, school leavers had to meet a certain grade standard at the preliminary level of examinations ("mocks"), rather than attaining a certain number of final O-levels (GCEs).
"I knew I wasn't interested with further education, so I was determined to become an apprentice at the steelworks. I knuckled down and studied hard for my CSEs and, when I got the results [successfully, and with final exams still to take], I didn't bother after that. I started as a General Engineering apprentice in the September with 43 other lads and it was the most valuable four years of my life."
The scale of the steel-making operation at Shotton's was huge – mind-bogglingly huge – at 470 hectares or nearly two square miles, the site was as large as Hyde Park and Central Park combined. Each year, workers in variety of different trades were required across a number of different processes. Apprentices were rotated around the operation in order to gain experience of the blast furnace, precision engineering, locomotive maintenance, the coke ovens, the main steelworks, the hot mill, the cold mill and the finishing plant. As a result, each would have practical, on-the-job experience of boiler making, electrical engineering, mechanics, fitting and machining. After two years, each retained apprentice was asked to specialise in one of these fields. Neil became an apprentice fitter and served another two years before he was automatically taken on, at almost three times his initial wage.
Neil Richards (Centre), with fellow apprentices at Shotton Steel, 1974.
It may seem that these basic facts sum up the process just as you'd expect: a school leaver, a selection process, an amount of time served, learning about a variety of technical processes and a skilled job at the end of the process. While all that is true, Neil is quick to explain how the real benefits of his apprenticeship went far, far beyond that.
"We were mainly trained by people who cared about us, about our ability to do the job well. I never questioned it at the time but it's clear that they were keen to pass on the quality of their own training to those that followed. Of course, you were also exposed to a wide variety of types of people: there were hard workers, slow workers, charmers, sulkers, academics and BS merchants. Without realising it, you were gaining the mental tools to be able to deal with all these different types, to work with them or to resolve a problem."
The most obvious benefit of the system was that it instilled in each apprentice a sense that, when qualified and working as a senior employee, the same quality of instruction and advocacy was passed on (or 'paid forward') to the next generation of apprentices, continuing a cycle intended to keep going in perpetuity.
As most university students would agree, Neil's story highlights that fact the subject of the apprenticeship may have been the area of study but the life lessons that came with it were the true education. Unlike the graduates of those days, being parachuted into management roles, it would take several years and a great deal of upheaval for the true value of that education to become apparent.
The 1970s had dawned still with the optimism of Harold Wilson's "white heat" of technological revolution. England were football world champions, standards of education were improving, unemployment was falling, and social mobility was arguably at its highest-ever level. As the decade wore on, it became clear that the good times couldn't last. A combination of loss-making across most of the UK's nationalised industries, plummeting productivity and increased industrial unrest had made the large, monolithic plants like Shotton Steel vulnerable. With the availability of cheaper alternatives from abroad in an increasingly global market, there could be no return to profitability. In March 1980, British Steel closed the plant, with the loss of 6,500 jobs, an event described by some media reports as the biggest industrial redundancy on a single day in Western Europe.
With the certainties of a 'job for life' at Shotton's gone for good, Neil had to change his own career trajectory. Instead of specialising in engineering, he soon became a foreman at the Rolls-Royce-owned Deeside Titanium, making turbine blades for jet engines from the strongest metallic element in the table. This change of direction required him to gain a degree in Chemistry but also saw him develop his people management skills. The Open University took care of the degree, but the understanding of motivation and management all came from the lessons he'd learned as an apprentice on the shop floor at Shotton steelworks.
Suddenly, the early 1980s had become a very different time for school-leavers seeking job skills. Without the same level of large-scale industrial employers, required to think long-term, the economy had become largely comprised of smaller, more agile businesses in retail and service sectors, with a much shorter-term outlook and far less need for formal apprenticeships. It meant that just as many school leavers each year were added to the job market, but skilled labour was dwindling and unemployment was rocketing. The net effect was that the role of apprenticeships had less to do with preparation for a fulfilling trade but often as a cover to replace mature workers with lower-cost teenage alternatives under the 'YTS' or Youth Training Scheme, a practice Neil Richards describes as "cynical".
If the effects of Thatcherism had reduced the currency of apprenticeships, a further blow to the practice came from a more surprising source over a decade later. In September 1999, Tony Blair told the Labour Party Conference, "today I set a target of 50 per cent of young adults going into higher education in the next century". It was an ambitious statement, and doubtless a well-intended one, but by overtly valuing higher education above vocational training, it seemed to have the effect of dismissing the value of apprenticeships, further reducing its image to one of out-dated irrelevance.
Over twenty years on from Blair's announcement, Neil is still animated in his disapproval of that policy: "Of course we need better qualified workers, no-one would suggest otherwise. Higher education is a wonderful thing but it's not the only thing. CSG can only function as it does by the number of people here who are qualified to the level that they are – but they will always only be a proportion of the workforce. We'll always have a need for people who understand the practicalities instead of the theory – and there'll always be a proportion of capable youngsters who won't want to carry on in formal education but have their own contribution to make and are just looking for the opportunity to be trained. I firmly believe that policy set back apprenticeships for a long time – but now, I sense, it's coming back."
The figures suggest he might be right. Despite several calls from various groups in the intervening years for Labour's symbolic 50% target to be abolished, it was reported last year that it had indeed been reached, according to figures from the Department for Education, which placed the number at 50.2%. This suggests that vocational learning must have diminished but between 2013 and 2017, the number of vocational qualifications awarded went up by over 50%. In the same period, the number of apprenticeships around the country have remained static at around half a million each year, with the average duration increasing from just over a year to over eighteen months.
Neil's experiences – and those of his colleagues from those days – are a testament to the value of a solid grounding in a nurturing environment where skills continue to hold value, all elements that should be just as relevant today. Interestingly, there was one aspect of those 1970s apprenticeships that did need to change. The fact that they were designed for huge, inflexible corporations meant that their aim really extended only to developing the operating skills of the apprentice. In a time when 'Management' and 'Staff' were kept entirely separate, there was little expectation that even the best operator could be considered for anything other than an operator's role. The strong unionisation of such places also meant that there was a 'pecking order' to determine career progression, which often overlooked ability in place of 'time served'. Neil's experiences show that the 'soft skills' he acquired almost as a by-product of his apprenticeship were just as much of a driver of his career as his technical abilities. We'd all like to think that we live in a more merit-driven world these days; one in which there are no closed routes to management positions or diversification. Today at CSG, there's no expectation that better qualification can lead to managerial roles, but neither is there any sense of a glass ceiling to anyone with management aspirations.
CSG now offer apprenticeship schemes, wherever possible, across the business. Currently, those who've been through the process account for approximately 25% of our technical positions. We'd like those numbers to be higher. Quite apart from the importance of apprenticeships as a means to add skills, they're also a way to demonstrate worth and this too is one of CSG's core values. Where many employers circumvent minimum wage obligations to operate unpaid internships, CSG are determined to offer positions of real value, with real prospects.