Apprenticeship Achievements Worth Celebrating!
25 November 2020 by CSG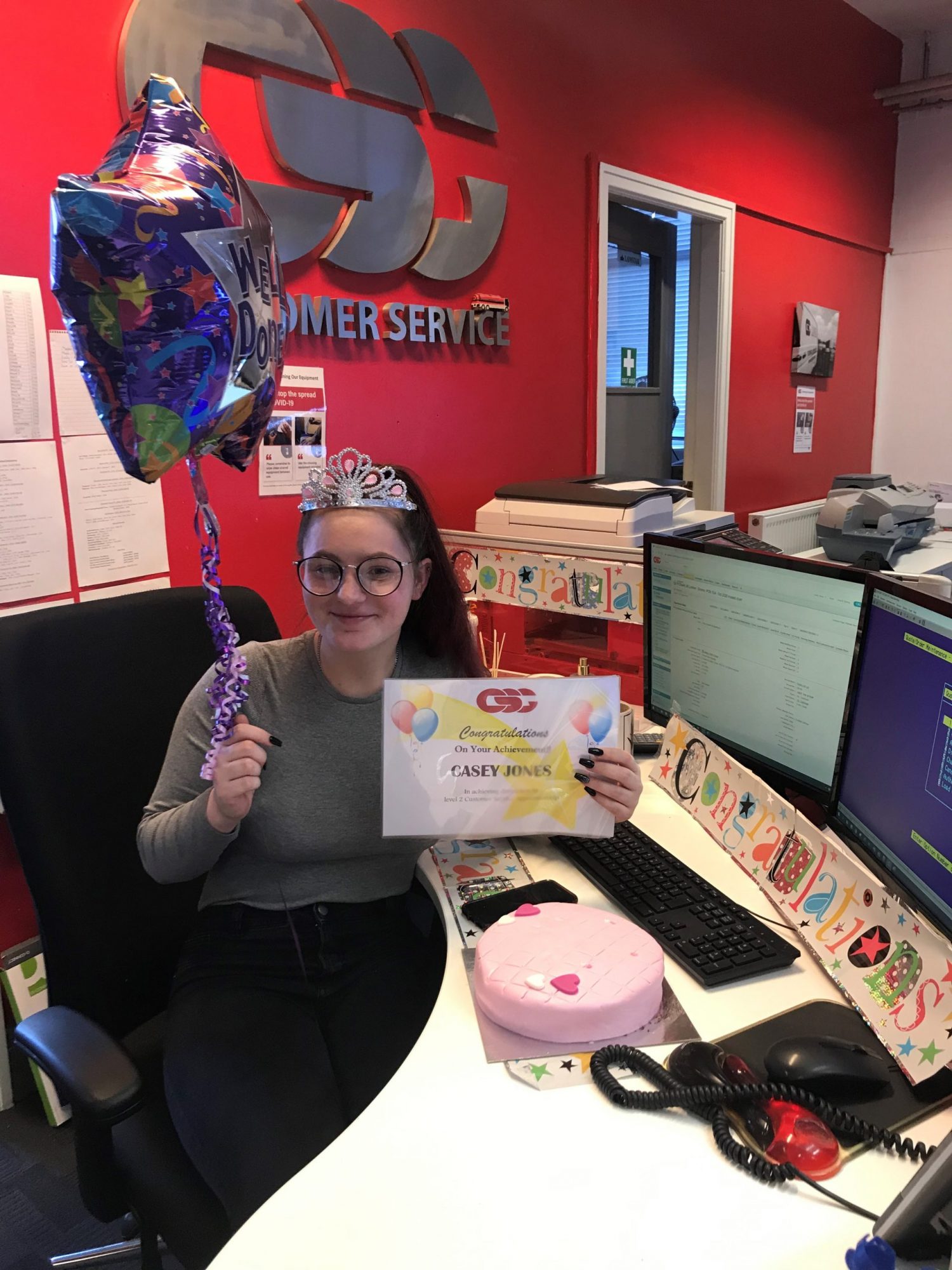 Casey Jones is a prime example of why CSG has invested in an extensive programme to train people. After completing her Customer Services Apprenticeship, she is now a fully-fledged and valuable member of our Cadishead team.
Casey, a born communicator, fits perfectly in the role as customer service executive, where she does anything from generating quotes, answering inbound calls and emails, to ordering and booking customers in for collection and disposal of their waste. While enjoying the variety of responsibilities she has on a day-to-day basis, her favourite thing about working for CSG is the people who she gets to spend every day with.
Cheryl West, Technical Waste Manager describes Casey as a valuable member of the Cadishead team who has a very positive attitude. "When Casey first started with us she was very shy. and It has been lovely to watch someone grow from strength to strength in their confidence, role and responsibilities and take ownership of their own career growth supported by a nurturing company culture. Casey has shown she can learn new skills and be flexible in every office function doing whatever is needed to solve issues and get the job done properly to ensure we always deliver the best possible customer experience."
While there were some ups and downs of the apprenticeship, Casey says "it has allowed me to develop my skills, myself and taught me how to solve problems". As a part of the apprenticeship she had to create a PowerPoint and present it, while the creation of the PowerPoint was not her greatest strength, she discovered that she loved presenting it.
For the entirety of her Customer Service Apprenticeship Casey has been awarded Distinction, the highest grade possible. An achievement that was of course celebrated with a bit of cake, a tiara, and a balloon.
As Casey now is finished with her apprenticeship and has been promoted to Customer Service Executive, the team at Cadishead is looking for their next Customer Service apprentice to continue the long term growth and success of the customer service team at the site. They will be responsible for providing sales, operational and administrative support to the operational depot, alongside their own apprenticeship specific assignments. In return they will have the opportunity to develop a career in a fascinating and everchanging industry and a business where people are supported.
CSG values the importance of apprenticeships in society as an alternative route to university and an efficient way of building a skilled workforce. The scheme has been very beneficial to the development of several individuals who have built successful, long-term careers across the company.
Managing Director Neil Richards, who started his career as an apprentice in the 1970s, has previously stated that investing in apprenticeships is a great way to give people the opportunity to kick-start their careers, and that there are many advantages to learning whilst on the job.
Casey's future is bright, and she aspires to join the field sales team in her long-term future with CSG and when the world is back to normal again. For now, she is enjoying long walks with her Shih Tzu Beau, spending time with her family consisting of mum, dad and three siblings, and ordering a takeaway.